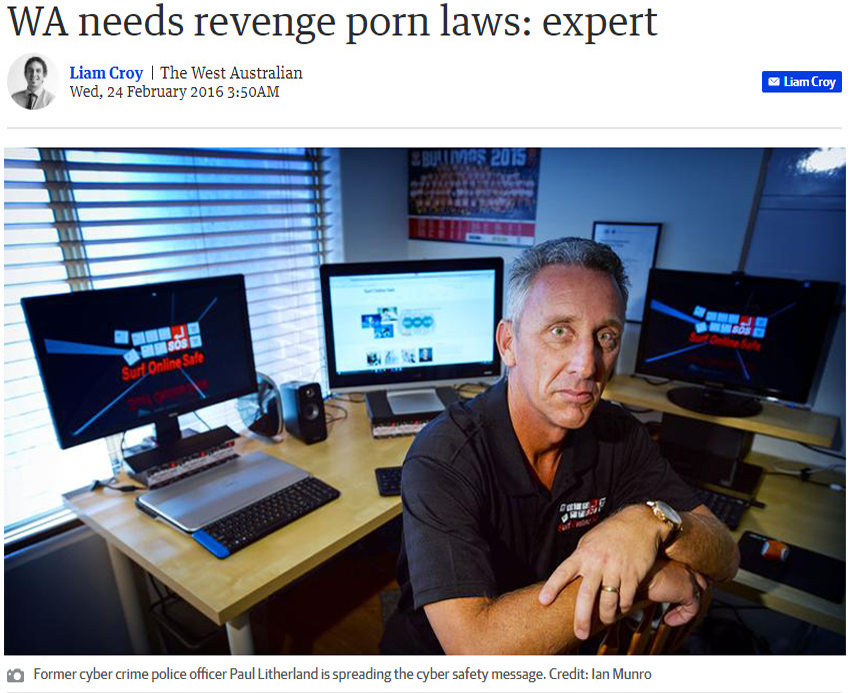 From the very first day I started working at Tech Crime in 2009, I began to realise how poorly the creators of online networks were policing their environments. The lack of true respect creators have for their users, compared to the desire they have for profit, became blatantly apparent on a daily basis. Married with the refusal by the majority of networks to actively co-operate with law enforcement, my frustration after only 2 years was off the scales.
By the time I had passed my 3rd year at Tech Crime, I was at the point where I was having heated conversations with CEO's or executives at many of the worlds leading social networking environments. Those conversations were rapidly met with refusals to act, eventually leading to un-returned calls and changed email addresses.
I felt this blatant ignorance toward the issues being faced by victims of online crime and abuse was disgusting, and this did not appear to be changing. By 2014, my desire to drive true change was overwhelming and I just kept screaming 'Enough is Enough'!
Since 2016, Surf Online Safe has continued to grow. As a result, my reputation as one who is truly determined to make the online world safer, especially for our children, has also gained some pretty amazing momentum. Together with an increase in media attention, my voice is being heard much more than it has been in the past. It is this extra credibility which has given me the opportunity to really pressure those who are responsible for the creation of online environments.
Intimate Image Abuse Legislation - Enacted April 2019
From 2009 to 2015, I was dealing with a large number of people who had had their intimate images shared without consent. A large number of those people had their images posted onto publicly accessible websites. Due to a lack of specific legislation and poorly designed available laws, it was impossible to take action against those who were recklessly sharing the private images of others.
In 2016, two years after I had left the WA Police, I was involved in a case which had a significant impact on me.
I was contacted for help by a 16year old girl. She was a student at one of the schools I had been presenting at for 4 years. Sarah (not her real name), rang me at midnight as she was sobbing, hiding in her wardrobe. Through trying to calm her down and her trying her hardest not to be heard by her parents, she told me what she was going through.
Three months earlier, Sarah had sent her then boyfriend a nude. They had been in a relationship for several weeks, when she made that error of judgement. Sadly, (which is very common) that boy shared her image with many of his mates at school and within only a few days, Sarah's image was everywhere. After a few comments at school and some very inappropriate messages to her phone, she soon realised what had happened. This is when Sarah's life turned upside down.
Though initially denying he shared her image, her boyfriend eventually admitted sending it to 11 of his direct peers. Sarah now began the impossible task of trying to trace her image through those peers, in the futile hope she would have it erased completely. She continued this fight in silence for 8 weeks. She was shunned by her close mates and threatened with her parents being told by those who refused to delete their copy! Her reputation was destroyed, and she spent her days on her own in class and sitting in the library at lunch and recess, hiding away from the comments.
The evening she rang me, Sarah had found her image on a porn site! One of the boys at school had posted her image to the site, and photoshopped her full name and school onto the image. In the few weeks her image had been on the site, it had been downloaded or shared over 10thousand times. That night Sarah had decided to take her own life. The fact she rang me in desperation before choosing that heartbreaking path, is one of the proudest moments I have experienced in my life.
After an hour on the phone, though gripped with fear, I managed to convince Sarah to wake her parents so we could continue the discussion with them. Her apprehension was erased soon after, as her amazing parents expressed their love and support and that they would help her through this terrible experience. However, it was at this time I had to tell them all how precisely they were about to be let down by 'they system' and how pathetic the laws were regarding the online world in comparison to the physical world.
So from 1995 (internet in Australia commenced) to 2019, the events surrounding the above scenario were not against the law! For a number of years I asked successive Attorney's General, how this could be the case and for 5 years my concerns were ignored. I refused to be ignored on this matter, so I commenced a campaign for the introduction of specific legislation to cover the issues Sarah (and many other West Australians) had gone through.
In 2016, I began petitioning the WA Government for the introduction of Intimate Image Abuse Legislation.
Explanation:
1. Sarah was 16years of age!
As such, under Western Australian legislation (a child is anyone under the age of 16), Sarah's image was not considered Online Child Exploitation Material (OCEM), commonly referred to as 'child pornography'. In addition, as Sarah did not display her genitalia in the image, it would also not have been deemed OCEM under the Federal legal definition (a child is anyone under the age of 18) - As a result, her ex-boyfriend and his peers could not be held criminally responsible for the distribution of Sarah's image.
2. Her boyfriend and his peers technically had the right to share her image!
Because Sarah sent her image without precise instruction not to share or distribute (license), those who received it had the right to do what they wanted with it, because it was not subject to copyright legislation! Yep, you read that right. The law was telling teens and adults, in order to be protected (only civilly of course), you had to send a nude with a disclaimer!
3. The website her image was on, had no legal or civil obligation to remove it!
The image was posted to the website by someone who technically owned it. Sarah, did not express copyright ownership of the image when she sent it to her boyfriend, nor did he do the same when he on-sent it to his mates. Therefore, the person who eventually posted the image online did so legally. As such, when I requested the website remove the image (one of the worlds leading social networks), they refused.
In April of 2016, with the support of the Commissioner for the Victims of Crime and Attorney General John Quigley, I was able to reach one of my most proudest achievements by seeing Intimate Image Abuse laws introduced in my home state of Western Australia.
Specific Cyberbullying Legislation - Working Committee commenced 2020
Since 2018, I have also been pushing the Attorney General to address the massive issue of cyberbullying here in Western Australia, with the intent of having specific legislation introduced as soon as possible. After my 6 year fight to get Intimate Image Abuse laws here in WA, the gloves are well and truly staying on for this new fight!
In 2020, the Attorney General, through the Commissioner for the Victims of Crime initiated a working committee to determine if a legislative response to cyberbullying is required. The first stages of public consultation were introduced in the form of 2 online surveys (Adult & Youth), created by the working committee in partnership with ECU. Due to the impact COVID has had on the nation, in 2021 I requested the consultation process be extended and further surveys be conducted in order to gain as much evidence based data as possible. I am glad the Commissioner is considering this request and hope to post an update on the process by mid 2022.
It is important a clear message be sent to the Attorney General, so those involved in legislative change can truly understand the experiences and views of adults and children in WA affected by cyberbullying. I believe it is time schools, parents and kids themselves had access to laws which give them a chance to be heard and to have 'offenders' made accountable for their actions.
Well considered and scaled laws will go a long way in helping address this massive issue and I hope I can count on your support to get this done.